Welcome to our Comprehensive Luxury Home Search Page! Click on the dynamic searches below to view all the real time active listings in your preferred geographical area. Modify the search to customize your results and save your search to receive new listing notifications. I specialize in this market and monitor the inventory daily. If you would like to know more about any home, neighborhood, or area in this space, please call or text my cell phone for accurate and detailed information.
| | |
| --- | --- |
| The North Side $500,000+ | The Eastside $500,000+ |
| Simpsonville Five Forks $500,000+ | Simpsonville $500,000+ |
| Augusta Road $500,000+ | North Main $500,000+ |
| Downtown $500,000+ | Downtown Condos $500,000+ |
| Powdersville & Piedmont $500,000+ | Augusta Rd. & North Main $500,000+ |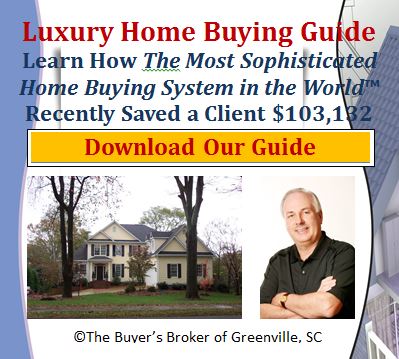 Locating, Evaluating, and Negotiating the purchase of a luxury home is much different than purchasing a home at the median price. The matrix of variables affecting a successful outcome are more numerous and more complicated. It is critical that you have an agent with the experience, knowledge, systems, and perspective necessary to make your home purchase successful. I invite you to download my Luxury Market Home Buying Guide to learn all the details of my approach to purchasing a luxury home.
Developing the right negotiating strategy begins with gathering all the relevant information about the subject property. The first step in developing a powerful negotiating strategy is researching seller circumstances and motivation. The next step in developing your negotiating strategy is analyzing and evaluating the condition of the subject property. The third step in the process is developing a Right Price Analysis to determine what is an average buy, a good buy, and a great buy. It's only after you have all the information that you can develop a high quality negotiating strategy.
Developing a Right Price Analysis of the subject property before you make an offer is the most important element of due diligence. The industry calls this valuation a Comparative Market Analysis (CMA) but we call it a Right Price Analysis (RPA) from the buyer's perspective. Reviewing all the data and calculating Fair Market Value based on the predominate value in the area, not just one over priced listing, is a much better approach, and is critical to an informed decision.
Proven Transaction Management Systems reduce turbulence and improve the home buying process and ultimately the outcome. Transaction Management Systems are the processes from the signing of a Contract to the Closing Celebration. When you have a team of high quality professionals all working together to accomplish your home buying objectives you will have a more successful outcome and a better experience. I have that team and I can put them to work for you, so give me a call and let's discuss your home buying objectives.